Learn more about HHCA's new murals!
Through the City of Calgary's Arts & Culture Microgrant program, the Huntington Hills Community Association was awarded funding to develop two new murals within its building.
The goal was to create symbolic pieces that enhance understanding and serve as long-lasting reminders for our shared neighbourhood space. They remind us that we as a community association have an ongoing responsibility for continued actions that support a diverse, equal, and inclusive space where "community becomes family."
Located in the main level stairwell, the first mural pays tribute to the rich Indigenous history that can be found within Huntington Hills and nearby Nose Hill Park. It focuses on recognizing the land and its people's roots, as we strive for stronger communities through enhanced truth and reconciliation.
Important well-known Indigenous references, including the Otter and medical plants, such as sage and sweetgrass, are integrated into the mural to pay tribute to the sacred energy and many gifts that Nose Hill Park has and continues to provide.
During an interview with City of Calgary Indigenous Cultural Landscape Strategist, Crystal Many Fingers, Many Fingers describes how modern archaeological findings, dating back over 10,000 years, are now aligning with Indigenous stories on how the current landscapes came to be. The Blackfoot creation story, Napi and the Otter, confirms that Moh'kinsstis [this area's territorial lands,] were once completely covered by glacier water. Due to its elevation, it is said that Nose Hill Park would have been one of the first masses visible – in which the Otter would have helped discover within the area's once endless waves.
The second mural, located on the lower level of the CA, represents the curling rink's ongoing commitment to enrich the sport of curling though meaningful engagement with underrepresented groups. The vibrant coloured collage is the first thing visitors see as they enter the club. It's a testament to what's possible, and where all club guests can help make that vision happen.
Long term curler, coach, and founder of the Black Rock Initiative, Andrew Paris, was consulted for the piece. As the first Black person to compete in a Canadian National Junior Championship in 2001, he describes how difficult it was to be a minority amongst a completely white population of players. Paris believes that, although there's a lot of work to do, creating a more representative sport where he and his son can feel completely comfortable in is possible.
Through his non-profit, and ongoing collaboration with national campaigns such as #UnitedWeCurl, Paris explains the recent shift of governing bodies, local clubs, and players finally beginning to take notice of curling's long-standing homogeneity and often inadvertent racism. He says creating positive experiences within diverse groups is paramount to success.
He challenges clubs and their members to recognize the difference between welcoming verses inviting BIPOC, 2SLGBTQ+, newcomers, and those with varying accessibility requirements to curl.
"It's a lot of education, it's a lot of assisting clubs with creating relationships with other communities, as well as making small but important changes within the curling club. It's one thing to say racism and discrimination aren't tolerated here, but it's another thing to explain why it's important and elaborate on what creating inclusivity actually looks like."
Huntington Hills Curling Club Manager, Rob Myers, says, "The sport of curling can only survive if it adapts to meet the needs of all Canadians. That is who we serve, and the actions we take are important for the future of the game."
Both projects were commissioned to local Beddington artist and entrepreneur, Rachel Lyon. Lyon was hired to research, design, and incorporate various perspectives, views, and voices into the murals.
She says that most of her mural work prior to this has been more aesthetic, not necessarily telling a deeper story. She's very grateful for all the knowledge that went into the designs and the community support she received throughout.
"Those voices were so important. It was a crucial part of the process – envisioning what the projects would be and what it meant to the community."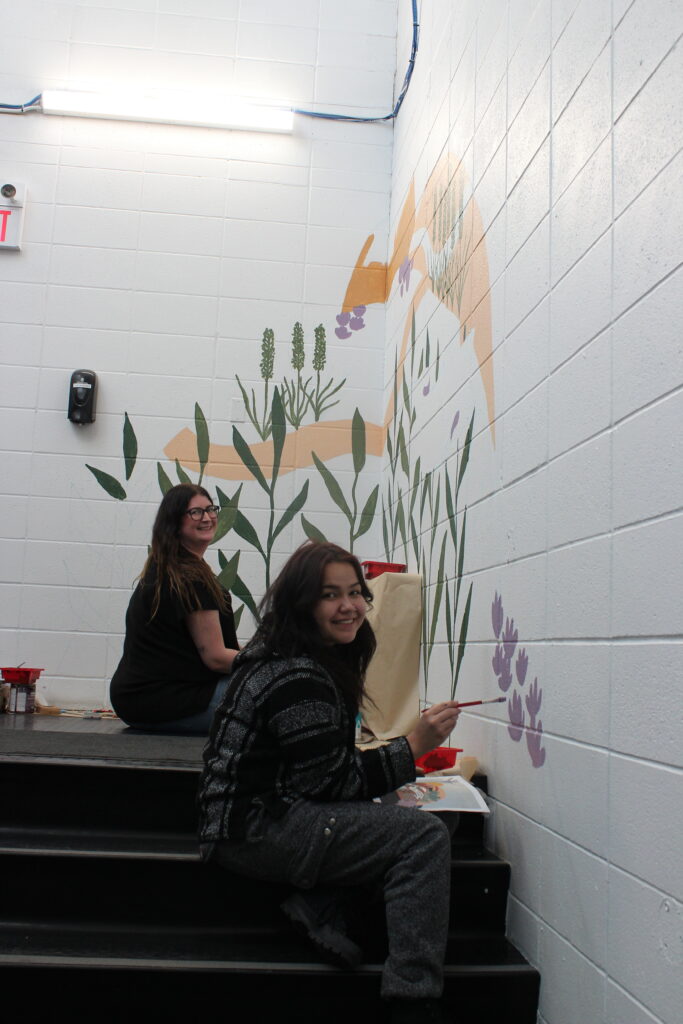 Lyon was also tasked with hiring BIPOC youth to work with her on the pieces. Sixteen-year-old Emily Houle, a student at Bowness High School, was selected for the task. She worked directly alongside Lyon, saying it helped her hone her artist abilities while exposing her to new large-scale mediums.
"When I came into the project, I had a really open mind, and I was looking forward to learning. I feel like I have learned, and I have improved my art skills."
It also served as an inspiration for her to do more within her own neighbourhood. "It was a good experience because I really want to do more for my community. It's a great start to contributing to that. I'm very thankful for the guidance and opportunity."
Through the grant, Houle was awarded $1,400 in compensation for her work on the projects, which included a customized curated art package from Lyon, to continue her love of incorporating traditional Indigenous art styles into modern realism works.
Stay tuned for more updates relating to this story. Sign up for monthly Enewsletters or watch for your mailbox Huntington Honker.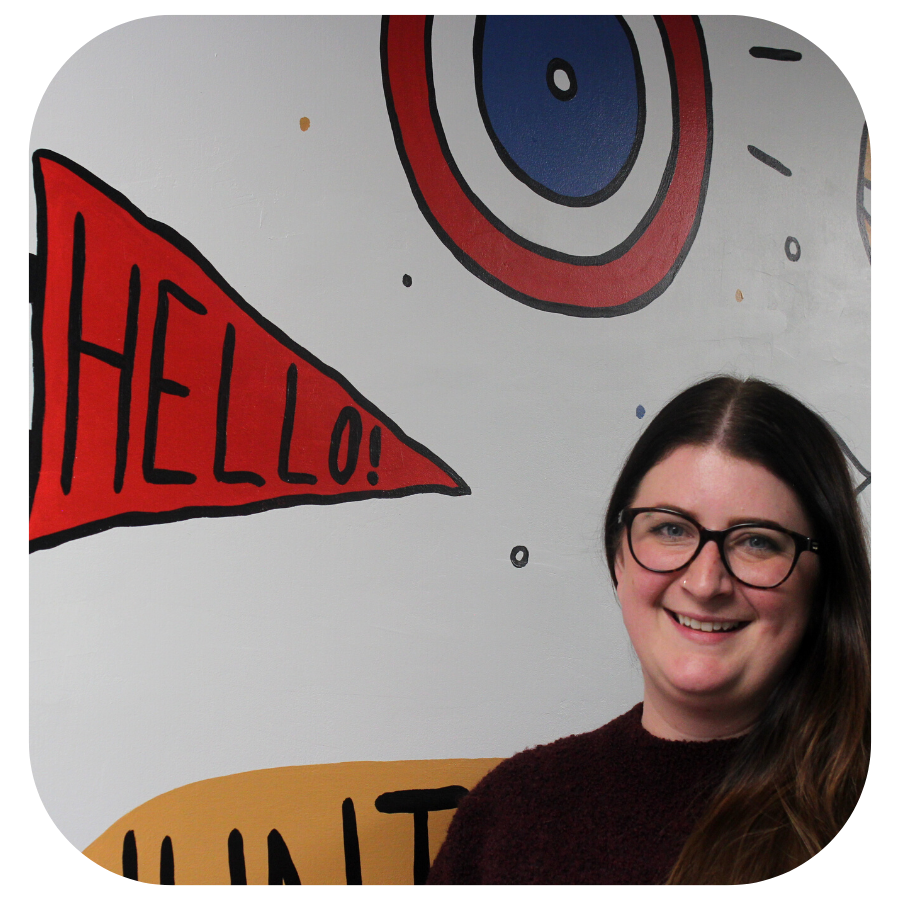 Rachel Lyon
@RachelLyonDesignCo
www.rachellyondesignco.com
What advice do you have for other artists looking to make a career off their work?
"Don't be afraid to, but also do your research. Investing in some courses about book keeping or even marketing if that's not your strong suit. Get your stuff together before you do it, and it will probably save you a lot of time and headache."
Do you remember a turning point that pushed you forward to do art full time?
"I've been doing art professionally to make money for just over 10 years. When we moved to Calgary, five years ago, I dove into the small business community here, and I became really inspired working on my business all the time…Last year I got hired by a third party company, and I did a mural for the Canadian Country Music Awards and for the Calgary International Film Festival. It was huge for my career and nice to be recognized as a true professional."
Moving from Toronto to Calgary, it's way more tight knit than where I lived before. I noticed that right away. I think Calgary is evolving in a lot of different ways. In my industry for art and technology becoming not just an "oil" city. I think it's so cool, because Calgary is so much more than that.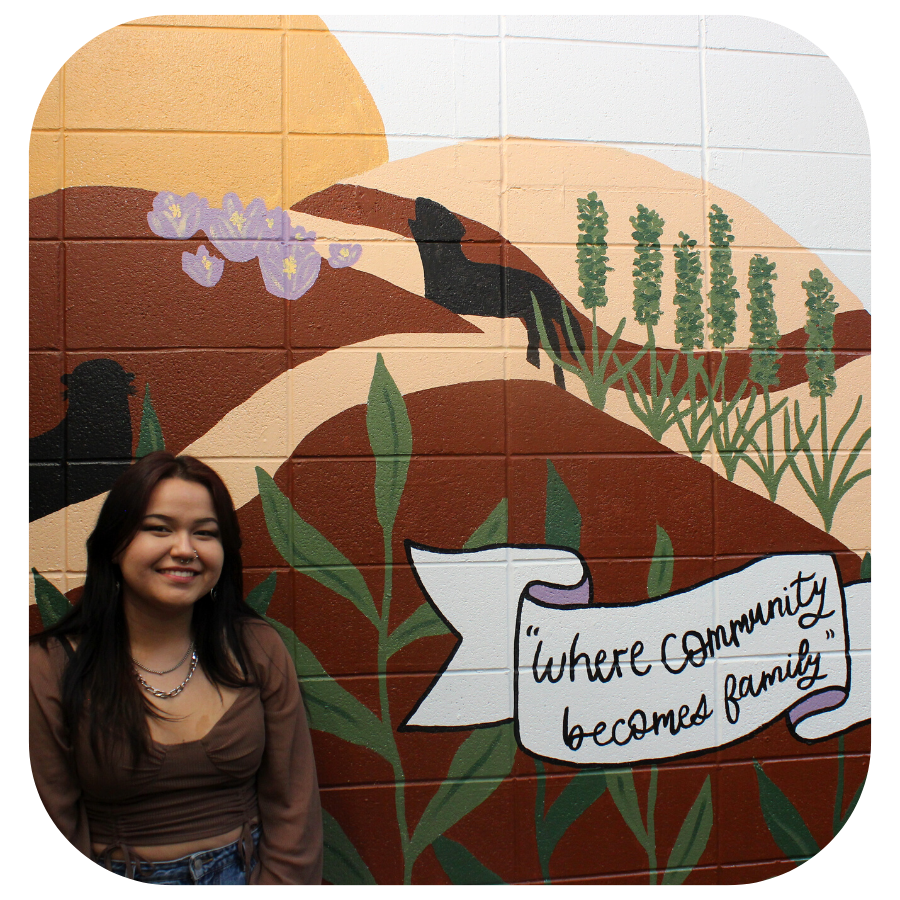 Emily Houle
Why is art special to you?
"Art is like an outlet for me to express myself more and it comes naturally. I'm really into Indigenous art styles, like Haida art. I really like doing acrylic."
Has art brought you closer to your heritage?
"I feel like it has. My grandpa he's really into painting as well. He likes how I picked it up. He's a Medicine Man. He tells me stories about different medicines and I'll write those down, and characteristics of those stories, and I'll try to put those into my paintings for him. I think he's a really good inspiration for that. 
For other artists my age, don't give up on art. Even though it can be very time consuming and tedious, in the end it can be worth it. You're going to sit back and look at your pieces and be like wow! I did that. It's a really good feeling.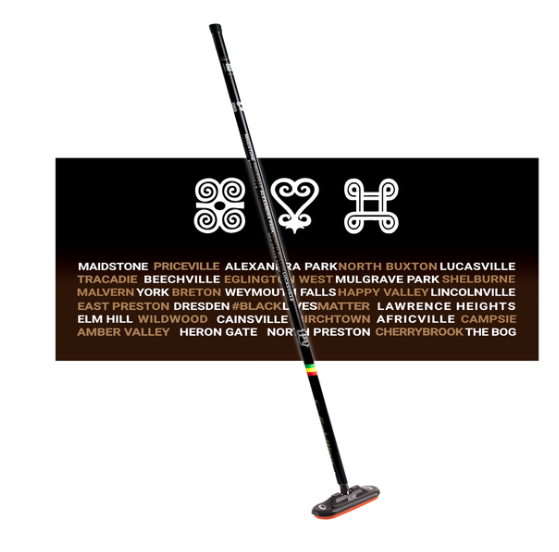 Andrew Paris designed the Desmond curling broom for Goldline as an educational piece to help lure new players to the sport?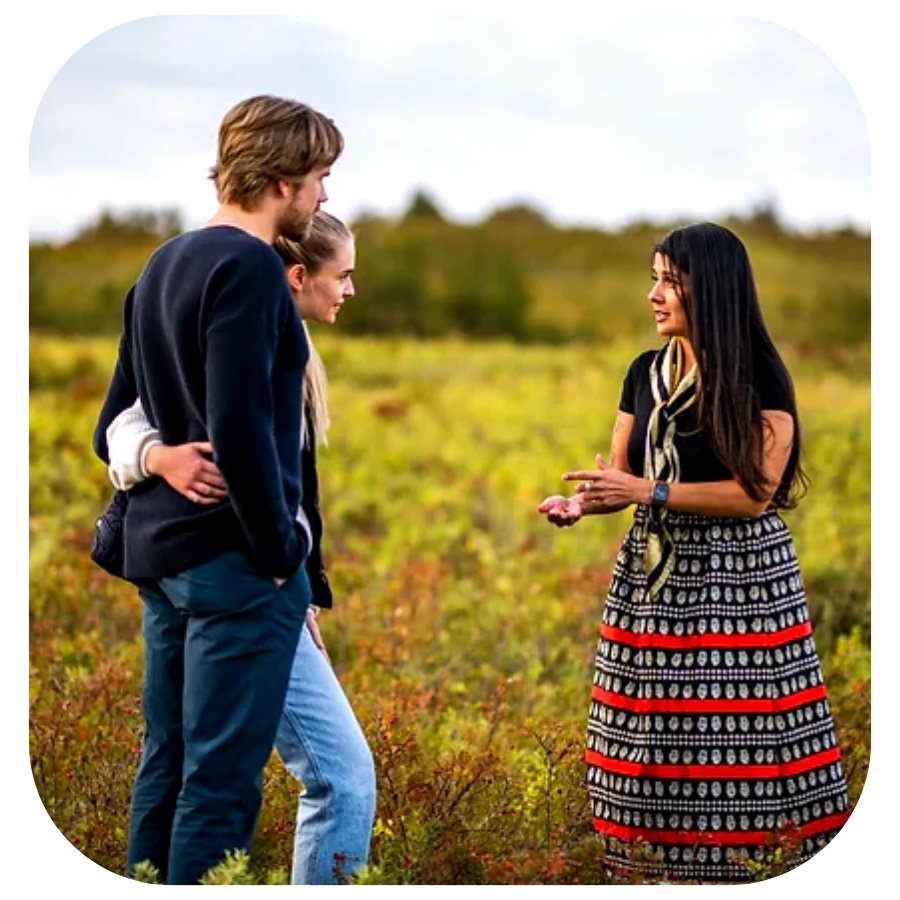 Many Chief Tours offers authentic Indigenous educational tours like the Siksikaitsitapi Medicine Wheel in Nose Hill Park?
Mural Blessing & Storytelling
On February 16, 2023 we were visited by special guests Elder Casey Eagle Speaker and City of Calgary Indigenous Landscape Strategist Crystal Many Fingers to bless our History of Nose Hill Park Mural. With Casey staying to share some Blackfoot storytelling and songs with
Huntington Hills Out of School Care Programs
. A special thank you to our guests, as we continue to honour the historic lands of Moh'kinsstis and Turtle Island.